A few years ago I wrote a post in this blog about High Street shops which have disappeared from our towns. This time I am focusing one single store, our beloved Woolies which disappeared for ever more than ten years ago. Readers in other countries might not be familiar with the chain but might well have similar stores they remember as fondly.
Woolworths started out in the UK in 1909 as F. W. Woolworth & Co., part of the American company that was established in 1879. The first store was on Church Street in Liverpool and sold children's clothing, stationery and toys. Woolworths took off in the mid-1920s with stores opening as often as every two to three weeks. By 2008 there were 807 Woolworths stores. In November 2008 Woolworths Group entered administration with Deloitte, and by early January 2009 all of its stores had closed.
As we lived in the countryside, towns with Woolworths were only visited occasionally which is what made the shop all the more exciting, especially to we three children.
When I was young a visit to Woolies was second only to a visit to Santa's Grotto. Our trips to a major town with a Woolies happened only a few times a year. Cardiff, for example, was a two hour drive away so a it was major expedition on 1950s roads with three children in the back. Necessities were seen to first. If it was a Christmas shopping trip we looked for presents, if it was to buy new winter coats and shoes or new summer clothes for anyone – never the whole family at once, money was tight! – we went to C and A's, Littlewoods or British Home Stores first. Then, when the serious shopping was done, we went to Woolies. Our reward for not moaning too much as we trailed around the shops was that wonderful treat – the Woolies Pick and Mix. It was always near the entrance so you could smell the sweet, sugary smell as you went through the door. My mum was really fussy about our teeth so being given permission to choose a bag of Pick and Mix was heaven! Near the sweet stall there was always a peanut roaster and my dad, who loved nuts, would buy himself a bag of hot, rosted, salted peanuts. They were measured out from the roaster into a paper bag. He was happy with his peanuts, we were more than happy with our bags of Pick and Mix.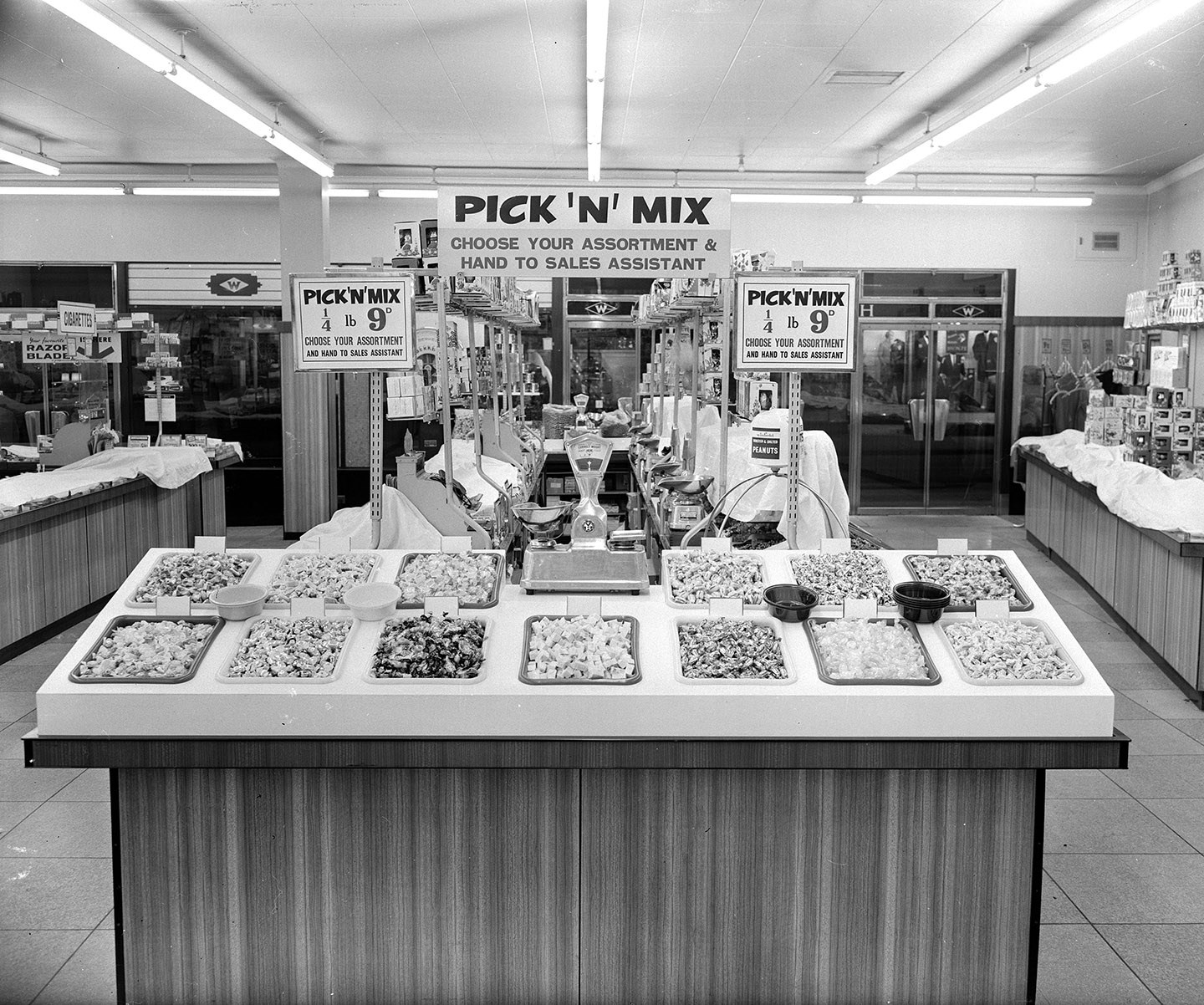 When we were very young, if we ever had a bit of pocket money to spend on one of these outings, my sister and I used to head straight to the jewellery stall in Woolies. We're not talking Cartier here! They were cheap trinkets – and we loved them! My sister once spent her pocket money on a little 'gold' ring which promptly got bent and then completely stuck on her finger. My dad had so much trouble getting it off before the circulation in her finger stopped altogether! When we were older the three of us used to choose stationery or books or occasionally a record. Not an LP, just a single ( a 45), which would then be played to death when we got home.
I remember that the floors were always wooden in Woolies. I also remember buying a Christmas tree decoration there once – which I still have.
Major shopping centres such as Swansea and Cardiff were such a long drive away from where we lived that it was always a full day's expedition. Inevitably, this involved a lunch stop in a cafe or a cafeteria. Such a treat for we country bumpkins!! The Wimpy Bars were one of our choices, also a cafe called Peter Jones, and lastly, a big favourite – the Woolies cafeteria. The cafes we went to when we were on holiday were places where waitresses in black with white pinnies took your order on a notepad at your table – which had a tablecloth on it. Cafeterias, were new, modern, shiny, wipe-clean and self-service.
Years later, as an adult in the 1970s, I appreciated Woolworths in a completely different way. By this time I was living and working in a town and could go to Woolies any time. I could buy dress patterns and fabric, saucepans and crockery, even plants and bulbs for the garden.
In the 1980s, I would go to Woolies with my children to buy stationery, socks, PE T-shirts and bags for school. There was a photo booth there where I would get their bus pass photographs taken every August ready for the new school year. Whenever I was in town and needed something which didn't fit in to any other shop category I knew I'd find it in Woolies.
As always, credit to Google Images and Wikipedia. I make every effort to use only images which are available for use but if anyone objects to the inclusion of any image in this post please contact me and I will remove it.