Now there's an expression from the 'olden days'! When I was a child, hot water was a precious commodity. Although we had an indoor toilet and bathroom and an immersion heater for hot water in our house, many of the farms and houses in our village didn't. My grandparents in North Wales didn't have indoor plumbing either. In the fifties, they still carried their water in buckets from a public tap 50 metres or so from their house – it had been converted from a village pump to a village tap. Their toilet was in a shed at the end of the garden and involved buckets which needed emptying daily. Even people who had indoor plumbing and hot water in the fifties remembered how life had been, just a short while back, so the use of hot water was very carefully controlled. I also believe that electricity was more expensive back then in relation to income which was an additional factor.
There was always a 'bath night'. Just once a week, usually on a Sunday so that you would be clean and ready for the week ahead at school. Back in the 20s, 30s and 40s, when our parents were growing up and water had to be carried into the house, hot water had to be heated in pans on the coal fire. The bath was a tin bath which was brought inside and filled with the hot water. Is it any wonder people only bathed once a week?
So in the fifties and sixties, even in houses with indoor bathrooms and hot water, people were still really, really careful with hot water and bath night was still strictly once a week.
The bathrooms of those days were not places designed to relax in like the bathrooms of today. No thick, fluffy towels warmed on the radiator, no scented oils, candles. There was no heating in British bathrooms in the fifities so bath night in winter was an ordeal – especially on the way into the bath and on the way out.
Toiletries were basic and the choice was limited.
Some basic soaps from the 50s.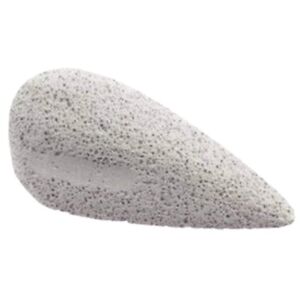 Apart from the ubiquitous flannel, the only washing equipment found in 50s bathrooms were the loofah, the sponge and the pumice stone. Also a back brush and nail brush. What is interesting about the three items shown above is that none of them are man-made. The loofah and the sponge were living organisms and the pumice stone (why was it always mouse-shaped?) is a volcanic rock. The back brush and nail brush were always made of wood with natural bristles.
Toiletries were minimal. A bar of soap and a shampoo. Mums and Grandmas liked a bit of 'scent' in their bath water so there were things called bath cubes which were dissolved into the water. Bath cubes were one of the things you bought your mum or your granny as a present. Bubble baths became associated with luxury and glamour so bubble bath started to become popular as a bath additive and Hollywood stars were often shown relaxing in a bubble bath. Then came bubble bath for children and I well remember the arrival of Matey. The idea was that this fun-looking bottle had a liquid in it which made bubbles but also washed you clean! Radox was widely advertised in the 60s on TV as an additive which helped with aches and pains. I believe it was Epsom Salts or similar with a bit of added perfume. Epsom salts and some other salts and minerals are still hailed as being beneficial to the body when used externally such as in a hot bath
Below is a selection of toiletries and the washing aids available today. Just a few, there are hundreds, if not thousands!