I have covered this before in the very early days of this blog. That post covered sweets, biscuits and chocolate. This time, in a revisiting of the subject, I am sticking to children's pocket money treats which they could buy in the local shop. There was always a mixture of packet, branded sweets on the counter. I particularly recall Spangles, Fruit Gums, Fruit Pastilles, Refreshers, Love Hearts, Polos. The chocolate bars I remember best are Fry's Chocolate Cream, Turkish Delight, Mars, Milky Way, KitKat, Crunchie.
Then there were the loose sweets, usually sold out of jars and weighed out on scales into a paper bag. The usual amount children asked for was 'a quarter'. This meant four ounces or a quarter of a pound. Sometimes you would order two ounces – especially if it was the end of your pocket money week! The smaller portions were weighed out into a cone shaped paper bag, the quarters into a square one. The loose sweets were myriad. I will name a few which I remember best. Shrimps (which always looked more like ears to me), aniseed balls, barley sugars, Everton Mints, butterscotch gums.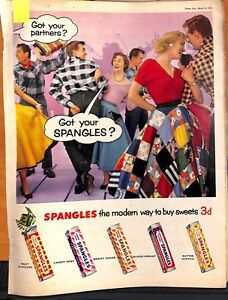 Love Hearts                                           Spangles.
Liquorice Allsorts.                                Flying Saucers.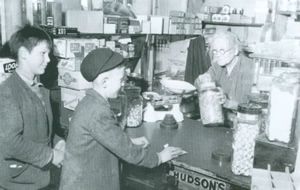 A 1950s sweet shop.
Sherbet Fountains.                             Barley sugars.