I was remembering recently a day when I fell in the playground at school and took a lump out of my knee. I still have the scar. I was taken in to school and a teacher put iodine on the wound (which stung SO much!), pressed a lump of cotton wool onto it and tied a bandage around my knee. I'm pretty sure those three things were the main, if not only, components of the school's First Aid resources. Here are a couple of examples of First Aid kits from the 50s/ 60s. There was a heavy reliance on cotton wool, bandages and lint – to be used with iodine, no doubt.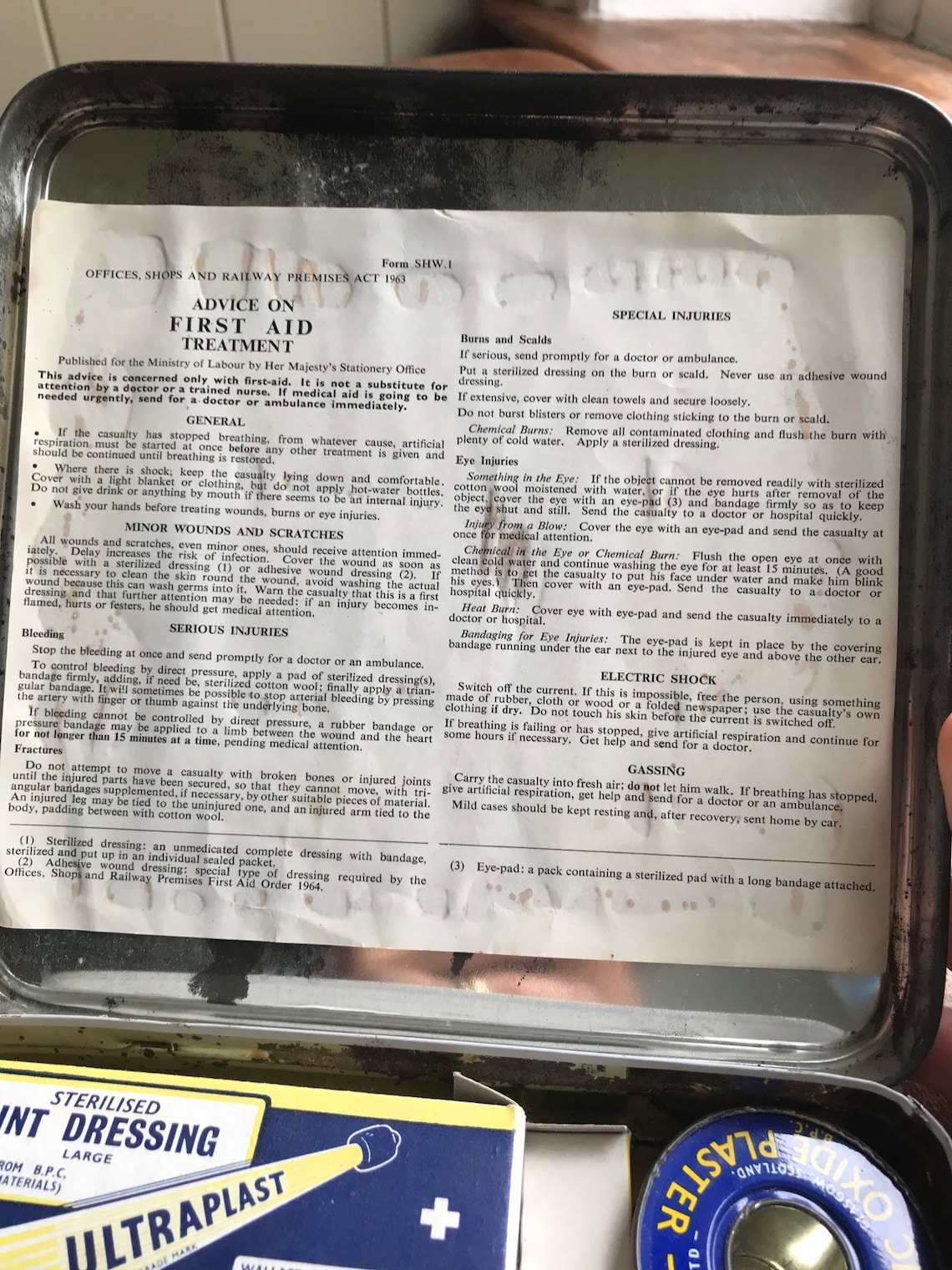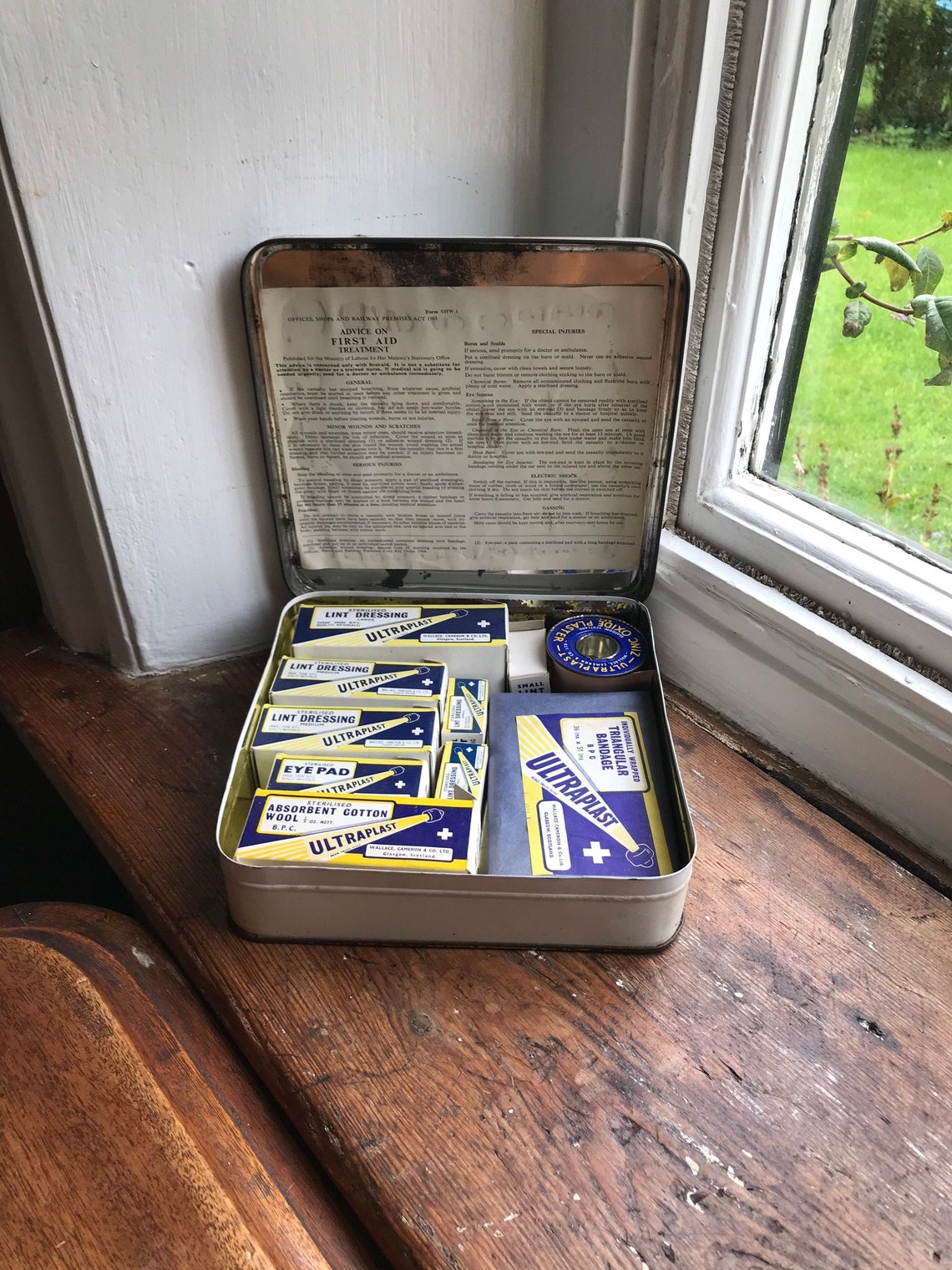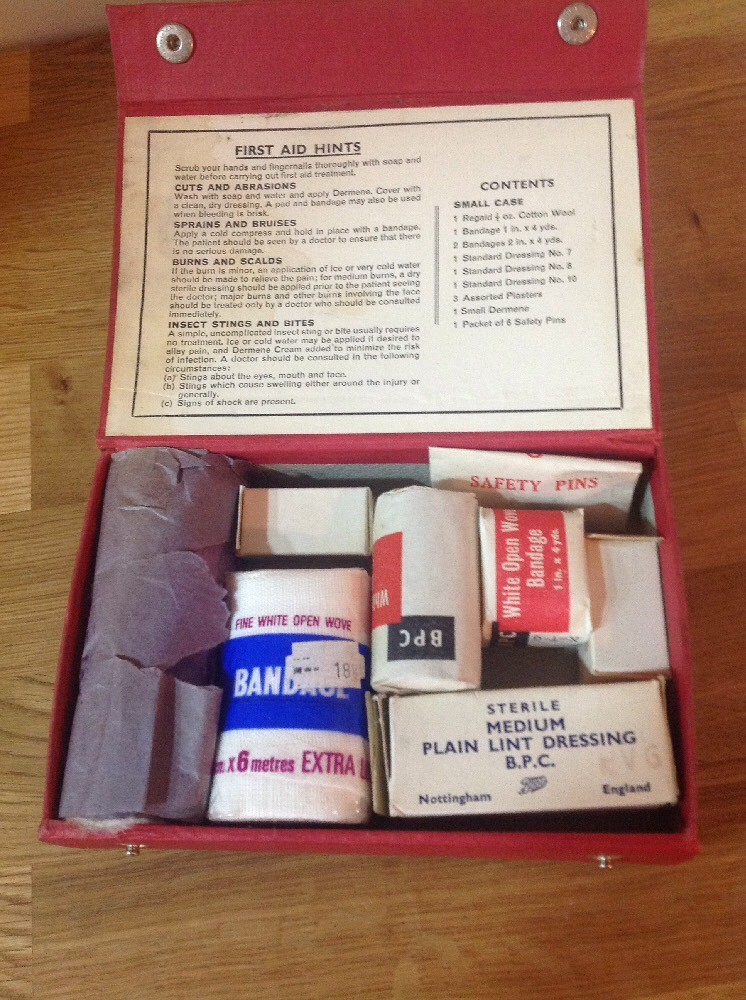 Another First Aid incident I recall from Primary School is my friend having a nosebleed and the headmaster putting his big bunch of school keys down her back. After recalling this I, of course, felt compelled to look it up. Keys down the back for nosebleeds is very well documented! Although it has never been scientifically tested, some experts believe that there could be some foundation to this old wives' tale as the cold keys possibly trigger something called the mammalian diving reflex. I do learn some interesting stuff when researching for this blog.
Some of the things I remember my mum having in the bathroom cupboard are: TCP for cuts and grazes (NOT iodine!), calamine lotion for rashes and sunburn , Gentian Violet for mouth ulcers, Milk of Magnesia for indigestion, Marzines for travel sickness, Hactos for coughs, olive oil (small bottle bought in the chemist's, definitely never for cooking then) for earache and aspirin for aches and pains. The same things were probably in all homes. There were fewer brands to choose from. It's pretty basic compared with what we have available now but definitely not as primitive as the vinegar and brown paper we know of from the nursery rhyme Jack and Jill. Once again, I felt impelled to look this up. I already knew that vinegar has been used as a disinfectant/ antiseptic for thousands of years but I was surprised to find a lot of evidence of vinegar and brown paper being used together on cuts, bruises, sprains and even nosebleeds. Here is a quote from one of Charles Dickens' books:
In Nicholas Nickleby, Dickens describes Squeers recovering from heavy bruising which required "Vinegar and brown paper, vinegar and brown paper, from morning to night. I suppose there was a matter of half a ream of brown paper stuck upon me from first to last."
As always, credit to Google Images and Wikipedia. I make every effort to set my search filters so that I don't infringe copyright. However, if anyone objects to the use of any image in this post, please contact me and I will remove it.