Recently I was reading with some children in school. The book was Michael Morpurgo's Butterfly Lion (brilliant writer, fantastic book!). Chapter One is called Chilblains and Semolina Pudding. Before doing any reading, I had to explain the two things to the children. I know people do get chilblains and you could, if you wanted to, buy semolina and make a pudding with it. Yet as far as the kids of today are concerned they are unheard of. We were very familiar with both in the 1950s. I suffered from chilblains every winter and semolina pudding was a regular (if rather unpleasant) feature of school dinners. This started me thinking of other things which were part of our lives as we grew up which today's children have no knowledge of.
I will start with food. Semolina pudding had several relatives in the milk pudding family. I think rice pudding is the only one which has survived into the 21st century in the UK – and even that isn't very common. The others were macaroni (yes, pasta in a dessert!), ground rice, sago and tapioca (nicknamed frogspawn – the reason for this can be seen in the photo).
With the advent of ice-cream, mousses and brands like Angel Delight, the traditional dessert blancmange has disappeared from the face of the earth. It was a milk-based, coloured and flavoured dessert thickened with cornflour and set in a mould. It was often served with jelly. For our birthday parties when we were little my mum used to make a rabbit-shaped blancmange and surround it with chopped up green jelly.
         Mum had a rabbit jelly mould like this.
A warm drink in the evening was also largely milk-based and could be cocoa or perhaps Ovaltine or Horlicks. I think they can still be bought but I don't think many  children drink them or have even heard of them.
Moving on now to school and school uniforms. All school uniform for boys included a school cap which had to be worn every day throughout school if the boy stayed on until 18 years old. Long trousers were not worn by boys until they were thirteen and uniform shorts were worn with long woollen socks.
Girls wore gymslips until thirteen when they could wear skirts. There were no tights (they hadn't been invented) so long socks were worn in winter, ankle socks in summer – even if you were a sixth-former! In our school the girls had to wear a beret (known as a tam) and woe betide you if you ever stepped outside school without it on!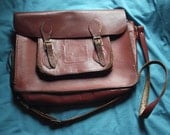 The school bag – for boys and girls in secondary school – was a leather satchel. Games and P.E. kit was carried in a duffle bag.Two more expressions unknown to today's children! The school uniform coat was a gabardine mac or raincoat, usually double-breasted and belted.
Here are some other things today's youth have not heard of (I'll cover these in more detail in Part 2):
Meccano,  plimsolls, cycling capes, leather footballs, Dinky toys, Liberty bodices, golliwogs, Spangles, leather footballs and bus conductors. Watch this space!