I have covered TV before but this time I'm looking purely at the children's programmes I, my brother and sister watched in the very first few years of family TV. I was ten years old when we first got a television, in 1961. For several years we only had one channel – BBC1. Many people my age remember Muffin the Mule but he is not covered here simply because I never watched the programme. I have looked it up and it ran from 1946 to 1955 which was well before we had TV.
The first ones listed are the programmes made for children and shown in the slot which covered after school until the 6.00pm news or, in the case of Watch With Mother, just after lunch. The dates show the years they were shown on British TV.
Noggin the Nog  1959 – 65  Peter Firmin was inspired to create the characters by a set of 12th century Norse chess pieces – discovered on the Isle of Lewis – that he saw in the British Museum. The cartoon was written and produced by Oliver Postgate, who was also a narrator. Firmin and Postgate produced many children's programmes for the BBC, including Pogles' Wood, Ivor the Engine, Bagpuss and the Clangers.
Captain Pugwash 1957 – 66  This was a delightful cartoon about a Pirate ship called the Black Pig and the pirates who sailed in it. They had plenty of adventures, none of which I remember now, but the theme tune and the cartoon characters I recall with great pleasure.
Watch With Mother  1952 – 75 This was broadcast at 1:30 pm each day and comprised:
Picture Book – Mondays, from 1955
Andy Pandy – Tuesdays, from 1950
Flower Pot Men – Wednesdays, from 1952
Rag, Tag and Bobtail – Thursdays, from 1953
The Woodentops – Fridays, from 1955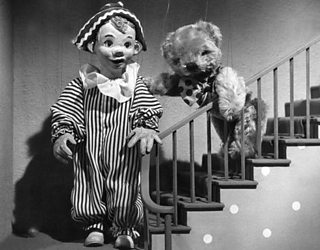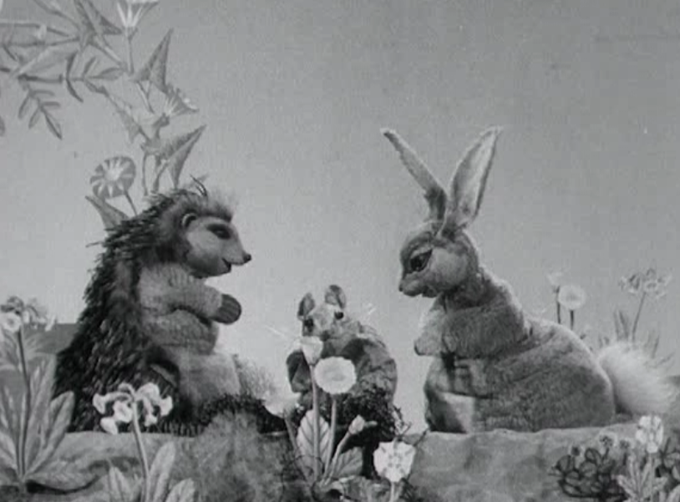 It was aimed at pre-school children but I remember it so well and how much we loved it – even though we had no TV until I was ten. I think we must have watched it in the school holidays or if we were ever home from school poorly. TV didn't start until 4 pm when the children's programmes started. Watch With Mother was the only daytime TV back then so it was a novelty!
Crackerjack  1956 – 84  Looking this up, I was amazed to see that it ran for nearly thirty years. I remember it being a ot of fun and that the children who were guests on it seemed to win a lot of prizes. I also remember that if they got a question wrong they got a cabbage instead.
Sketch Club  1958 – 61 We loved this programme! It was hosted by a man called Adrian Hill and he gave tips and hints on how to draw and paint. I have looked him up and found that he served in the Army in WW1 and was the first artist commissioned by the Imperial War Museum to record the conflict on the Western Front. After WW1 he worked with returning soldiers encouraging them to draw as part of their recovery. He also helped set up a scheme whereby works of art were loaned to hospitals across the country. He believed that art activities and art appreciation greatly assisted the recovery of those injured and traumatised by the war. He is credited with coining the term 'art therapy'. I knew none of this when I watched his programme but I loved Sketch Club.
Tales of the Riverbank  1960 – 63  Everyone my age growing up in Britain in the 1950s and 60s remembers this programme, the voice of Johnny Morris and the beautiful theme tune – which I now know is Andante in C by Guiliani.
Zoo Quest  1954 – 63   This was Sir David Attenborough's first TV programme. I remember loving it and thinking he was wonderful – he still is! I loved seeing all the different animals and I seem to remember they were often in Madagascar which I hadn't heard of until watching Zoo Quest. Doing my research for this post I have learned that the programme was all about a team from London Zoo on a mission to find and capture animals to bring back to the zoo. Wildlife programmes are very different now with the emphasis more on observing and preserving than capturing!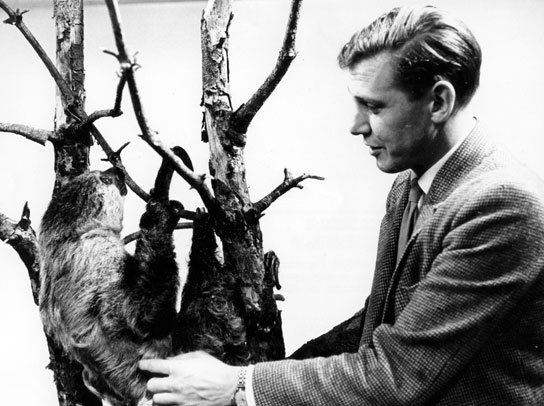 I was going to list some of the early evening programmes we enjoyed (such as Dixon of Dock Green) but the post would be too long so I'll cover them in a separate one.
As always, if anyone objects to the use of any of my photographs, sourced from the Internet, please contact me so that I can remove it.